Sure, your local librarian is a purveyor of stories. Perhaps you could call them a curator of knowledge. To many bibliophiles, they're revered as saints. But, as is often the case, there's much more to the story.

Librarians and library staff members are not just providers of books or directions to where the sociology section might be – they're community cornerstones and cultivators of culture. And, if you happen to strike up a conversation with your friendly neighborhood librarian, you might be surprised at what you learn.

In celebration of Library Week and to highlight our city's librarians and library staff, we collected stories from across the San Diego Public Library. Here are some of the anecdotes we found.

Evan Fickling
Take Evan Fickling, a library assistant at the Pacific Beach branch of the San Diego Public Library. He is a library staff member, of course, but he's also a regular San Diego Blood Bank donor. A committed member of his community, Fickling works with the special needs community and used to coach with the Special Olympics of San Diego County. He takes his dinner break to help serve meals to the hungry at a church across the street from the Pacific Beach Library.
"I have donated 43 gallons over my life," Evan said of his San Diego Blood Bank donations.
Amanda Lorge
There's also Amanda Lorge, a public programming librarian at the San Diego Central Library. In her spare time, she loves rollerskating outside and playing games on her Nintendo Switch – including recent indie discovery ​"Ooblets." Lorge also created a library program called Birds and the Bees: An Inclusive Sex Education Series, a project created in collaboration with Planned Parenthood and the UCSD SWAG lab meant to highlight the relevance of sexual wellbeing to our personal health.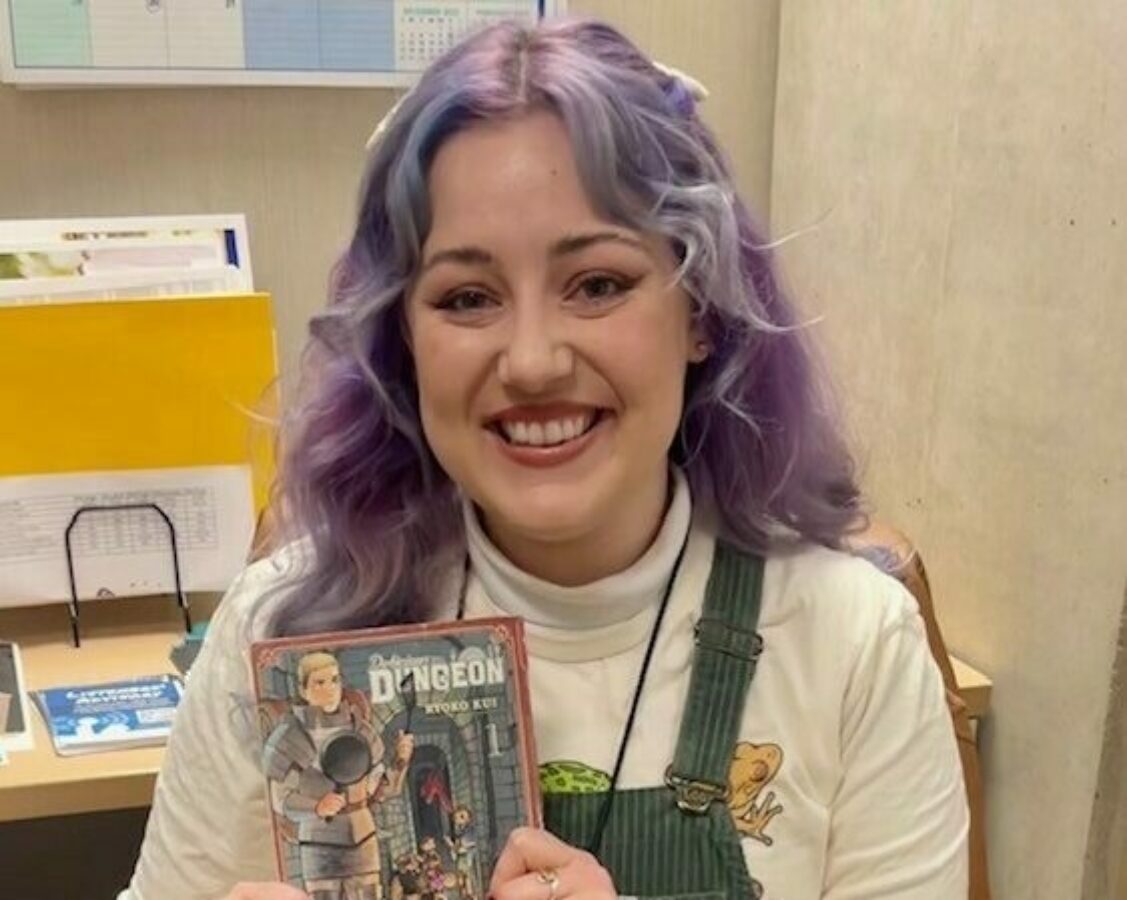 Stephanie Contreras
Stephanie Contreras, a Family Literacy Coordinator, revamped a READ/​San Diego program called Family Literacy, which provides educational services to low-literate English-speaking adults and their young children. When she's not helping to benefit the community, Stephanie likes to spend time outside. ​"My favorite activity to pass the time is camping," she said. ​"There's nothing better than unplugging and being in the moment with the cool breeze through the trees and feeling the warm sun outside."
Karen Nguyen
Public Technology Services Librarian Karen Nguyen loves anything that ​"combines creativity and making," such as crafts, baking, and learning new skills like playing the ukulele. During Comic-Con in 2022, she spearheaded the unique Cosplay Repair Station that offered convention-goers a place to fix costume mishaps, malfunctions, and last-minute adjustments.
Jacqueline Aguilar
Library Assistant Jacqueline Aguilar has a long history of public service, including organizing a series of interactive workshops at the San Diego Public Library to highlight clean energy, mobility, community resiliency, and more. She has a background in anthropology and enjoys visiting the Tijuana River Estuary, perusing art museums, and taking art classes at San Diego City College.
Alina Rosas
In the 35 years she has worked at the Barrio Logan branch, Alina Rosas has been involved in several innovative projects – including the construction of the Logan Heights Library. She completed community surveys, compiled statistics, and facilitated partnerships with local community organizations. She enjoys going to concerts when she's not spearheading public service initiatives.
Mike Nguyen
Besides indulging his sweet tooth and traveling the world, Senior Management Analyst Mike Nguyen oversees massive projects like shepherding million-dollar landscaping contracts with outside vendors. He likes collecting Funko Pops in his spare time and is a self-described Coca-Cola brand enthusiast.
Rachel Murray
Library Assistant II Rachel Murray is central to the Library's Marketing team. She enjoys creative projects, including designing personalized mugs for the San Diego Public Library's 2022 Team of the Year. Each of the Mission Valley staff were designed into vector illustrations using Adobe Illustrator to go on the mugs. Then, the Library's Public Technology Services team used the Dye Sublimation machine in the Central IDEA Lab to print the design onto each mug.
Library mugs featuring the Mission Valley Library branch staff designed by Rachel Murray and printed in the Central IDEA Lab.
Bob Surratt
For Service Area Manager Bob Surratt, his proudest project at the San Diego Public Library is the Listeners' Advisory podcast, which connects library patrons with services, facilities, and staff. He likes cycling and listening to hip-hop music when he's not working.
Shanda Watkins
Shanda Watkins likes gardening, visiting local art museums, and reading historical fiction and nonfiction. In addition to being a Library Assistant III, she's also the manager at the OB Seed Library – a little-known library program that lets patrons check out seeds just like they would books.
Sandy Roland-Chase
Well-traveled Youth Services Librarian/​Librarian II Sandy Roland-Chase is excited to experience New Zealand and Australia this Summer for the Women's World Cup. At the North Park Library, she enjoys hand-selecting the children's Concept Kit Collection books with an eye for inclusivity and diversity. Each kit helps staff distribute 6 – 7 themed books, from dinosaurs and superheroes to helpful topics like moving to a new home, starting school, and potty training to inquiring families.
"As a Librarian, I naturally love literature and enjoy reading when I manage to carve out time for it," Sandy said of enjoying reading in her downtime.
Thank you to all our San Diego Public Library workers who add so much to the library story and help improve our communities daily.