Sati and her family are at home in the Mission Hills-Hillcrest/Knox Library. Sati along with her mother and father and extended family have been regular visitors to the Mission Hills Library since before Sati was one year old. Sati celebrated her fifth birthday in June and continues to be a regular participant at story times, holiday festivities, the Summer Reading program and others.

The Library is an essential part of Sati's life and, as her mother Kimberly reports, the Library provided her first schooling and community experiences. Sati's health challenges led Kimberly (a qualitative researcher, educator and consultant) to home school her. Kimberly says the Library has ​"aided her educational, social, emotional, and civil development."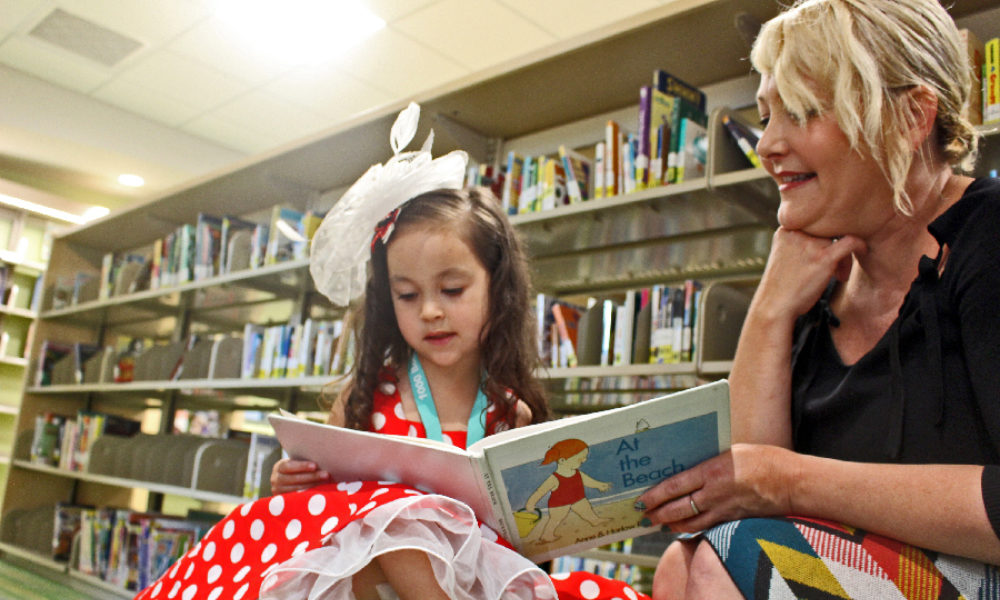 Kimberly said the library is ​"more than the building" and played a crucial role in Sati's development.
Sati and family have thrown themselves into the Library's 1,000 Books Before Kindergarten program. The program contributes to healthy brain development and provides the skills needed to succeed in school while promoting a love of learning.
A testament to the success of this program: Sati completed her thousandth book soon after her fifth birthday when she read her book aloud at Library story time!
Her current favorite books have been related to dance (Sati has begun ballet lessons) and music. Last summer, Sati also exceeded her Summer Reading Program goals and was selected as the branch's top reader.The Library has provided books for her father, grandmother and godmother/​madrina to read to Sati at home. And, Spanish-language children's books are helping Sati's godmother teach Sati Spanish.
We are sincerely thankful for everything and everyone this library gives our family,
Kimberly says the Library has been equally key in Sati's social development. When Sati first visited story time, she rarely left her mother's lap. Over time, she has become more comfortable and confident. She was ready to move to her own chair and is now an active participant. She is comfortable socializing with other children and even helps Library staff clean up after story time and craft projects. She has learned to cooperate and built problem-solving skills as well.
Kimberly reports that she and Sati love the new Mission Hills-Hillcrest/Knox Library and the larger collection of children's books and other resources it provides. Kimberly notes, however, that their love of the Library goes beyond the structure. ​"It's more than the building. It's more than just that," said Kimberly.
Sati has built trusting relationships with her ​"Library family," including Ms. Rebecca and Mr. Steve and Mr. Albert. Kimberly appreciates the role they have all played in getting Sati's education off to a positive start.
Kimberly also credits the Library with helping Sati blossom into a community builder, developer, and socially-conscious advocate of learning already in her young age. ​"The opportunities, be them as simple as learning how to choose and check-out books, respect each page of her approximately 10 books a week, and return them timely in the ​'magic shoot' all aid her responsibility and respect to fellow peers that may discover joy in reading too." Kimberly said."We are sincerely thankful for everything and everyone this library gives our family," Kimberly said.